JM elektronik started cooperation with Adeunis. Adeunis is a French manufacturer of sensors and devices for working via LoRaWAN communication.
All devices presented here were designed to directly control the parameters of technological processes or environmental conditions.
The presented sensors can be used to detect intrusion into objects, control liquid level, leakage, temperatures, pressure differences.
Adeunis Field Test Device (ARF8123AA)
Features:
Self-powered and rechargeable
Dimensions: 180 x 72 x 21 mm
LoRaWAN EU83-870
Operating temperature range: -20 ° C to +70 ° C
Standards: Directive 2014/53/EU (RED)
Radiated RF power: 23 dBm
Sensitivity: -140dBm LoRaWAN
Adeunis LoRaWAN Delta P (ARF8283AA)
Features:
Periodic or event mode
Operating temperature range: -20°C /+70°C
Delta pressure: -500/+500Pa
Accuracy: +/- 25Pa
Casing: IP68
Dimensions: 200 x 63.5 x 34 mm
Replaceable battery
Integrated fastening system: DIN rail, tube, wall, collar
LoRaWAN: EU863-870
Standards: Directive 2014/53/UE (RED)

Adeunis LoRaWAN Temp (ARF8180BCA)
Features
Network test at startup
Personalisation of the joint phase
Data redundancy
Periodic modes with or without log
Product error alert, configuration error, low battery
Class C LoRaWAN
Indoor temparature range: -30°C +70°C
Remote sensor temperature range:

Sensor: -55°C +155°C
Wire: -30°C + 105°C

Dimensions: 132 x 62 x 34 mm
Weight: 148g
Remote probes – Cable length: 2m
Casing: IP68
Integrated fastening system: DIN rail, tube, wall mount, flange
Operating Temperature range: -25°C to + 70°C
Replaceable battery / self-powered
Features:
Periodic or event modes
Replaceable battery
Pre-wired: 1 cable of 70cm / 6 connectable wires
Dimensions: 105 x 50 x 27 mm
Casing: IP67 (IP68 on request)
Integrated fastening system: DIN rail, tube, wall mount, flange
LoRaWAN: EU863-870
Operating temperature range: -25°C to + 70°C
Weight: 92.74 g
Standards: Directive 2014/53/EU (RED)
Product error alert, configuration error, low battery
Configurable Life Screen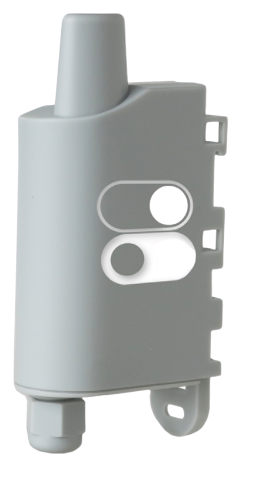 Representatives of companies interested in Adeunis devices and sensors, please contact us at the following e-mail address: sprzedaz[at]jm.pl